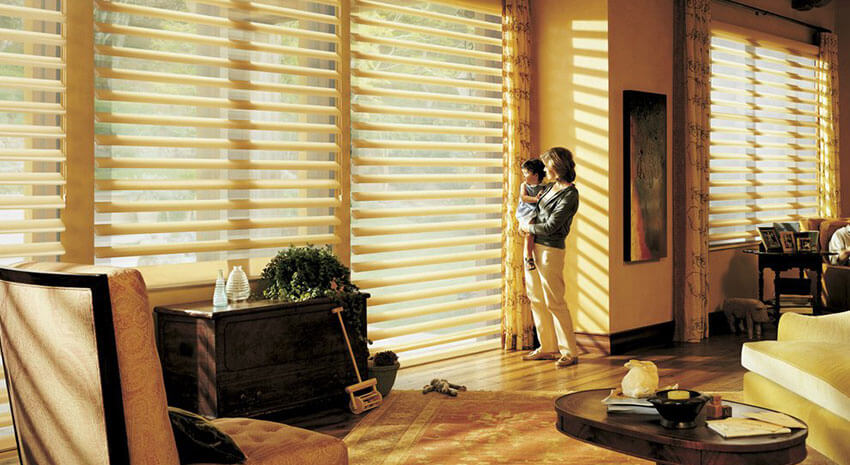 frfreeWooden blinds, also known as Venetian blinds, feature several horizontal wooden slats connected by corded pulleys that can either allow light to pass through the blind by angling the slats or reveal the entire view by gathering all the slats on top of the window. These blinds are available in a variety of finishes, which range from solid oak varieties to painted wood, and sizes, which are usually available in 25mm, 35mm, or 50mm. While horizontal wooden blinds are the ones most commonly used in homes, they are available as vertical blinds as well. Vertical wooden blinds generally feature wider slats and work in a way very similar to their horizontal counterparts.
Venetian blinds have horizontal slats that go one above another. Usually, Venetian blinds are traditional slatted blinds made of plastic or metal, but wooden slats are also used sometimes on these blinds. They are typically installed by being suspended using cords or strips of tape, in which all slats can be rotated in unison by nearly 180 degrees. The slats can be rotated in a way that they overlap with one side facing inward and in the opposite direction they also overlap with the opposite side facing inward. Between those two, different degrees of separation may be affected between the slats by rotating them. Also, there are lift cords going through the slots in each slat. The lower portion of the blind moves in an upper direction when these cords are pulled, which in turn causes the lower slats to press the underside of the upper slats as the blind is being raised. There's a modern version of the lift cords that works by fusing them with the rotational cords on each slat's edges. Slat width ranges from 16mm to 120mm, with 25mm being the most common width of choice by interior designers and homeowners.
The history of Venetian blinds dates back to the 18th century when Gowin Knight in 1760 and Edward Beran in 1769 took out related patents in England. However, the French had known about Venetian blinds long before then, and St. Peter's Church in Philadelphia had been recorded to possess such blinds in 1761.
During the late 19th century and early 20th century, the popularity of Venetian blinds was at its peak because commercial buildings often used them to regulate air and light. Rockefeller Center's RCA Building, or the Radio City Building, was a large modern complex in New York City that adopted Venetian blinds back in the 1930s. Also, the Burlington Venetian Blind Co. was one of the pioneering enterprises that placed one of the largest orders of Venetian blinds in the 1900s. This company supplied the blinds for New York City's Empire State Building.  Book an at-home free estimate by Clicking Here or Call us at 863-210-7987