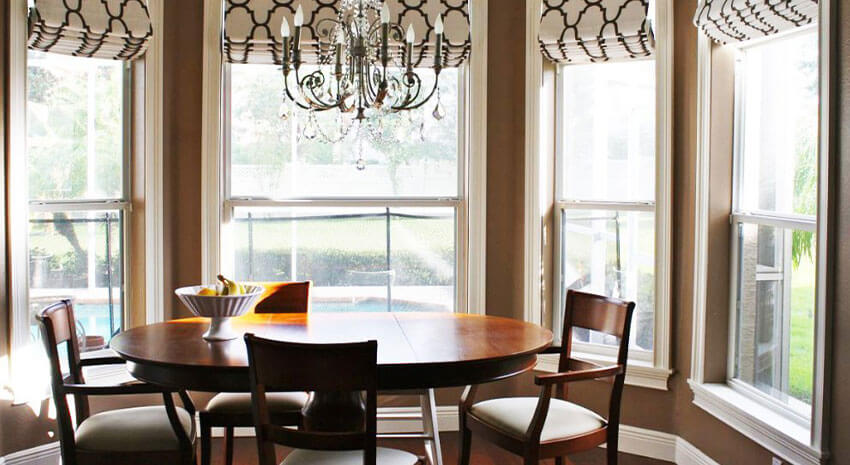 Roman Shades and Roman Blinds
Roman Shades, also called Roman Blinds, are a kind of window covering that can be effectively used to block out the sun. These shades are far different from standard window shades because of their convenient capability to stack up evenly while being opened. Once opened, the smoothness of Roman shades is easily noticeable, unlike with typical vertical shades of blinds where they are obviously ribbed or bumpy.
Roman Shades are typically opened using a cord mechanism that allows the user to configure the covered area's height. In this type of situation, the upper portion of the blinds will be stacked evenly and nicely, while the opened segments will remain smooth.
Styles
With the clean lines and classic tailoring of Roman Shades, they are the typical choice of interior designers and homeowners who are looking to spruce up a room. It's also very easy to find the right look that complements your home because Roman Shades are available in a huge variety of materials and styles, including elegant, casual, and classic.
Roman Shades come in a range of awesome styles, such as looped and classic. While both looped and classic shades are particularly designed to add depth and dimension to a space, some of their features are different from one another. Classic shades have a pleated design, while looped shades come with folds that flow down to help create depth. Also, both of them are available in a seamless style that features a flat or smooth shade face.
Materials
There are many types of materials used to create Roman Shades, including bamboo, wood, and fabric. Our company's signature Fabric Shades come with an astounding variety of premium craftsmanship and fabric choices. Also, we boast a wide selection of fabrics to make it easy for you to find a particular look that best expresses your personal taste and style. Apart from that, we have in our inventory all of the top-name brands available in the market, and we will gladly assist you in finding the right one for you.
Call us today for a complimentary personal consultation. Book an at-home free estimate by Clicking Here or Call us at 863-210-7987