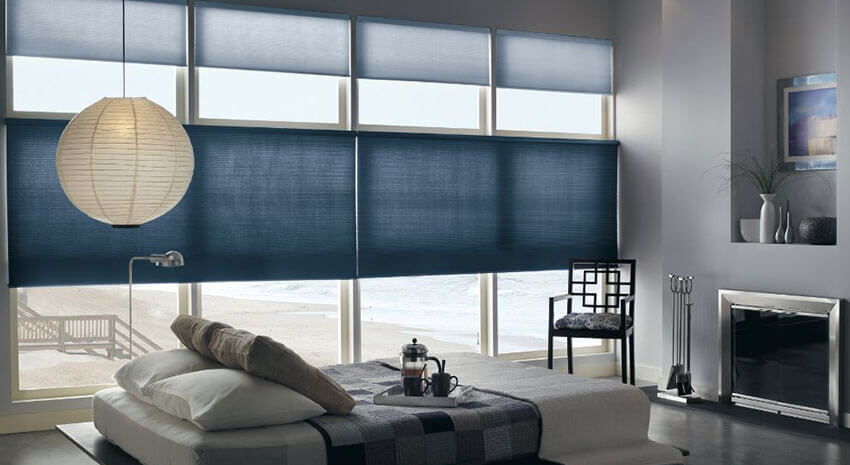 Cellular shades, also referred to as honeycomb blinds or cellular blinds, get their name from the empty pockets of air running parallel to their seams. Generally, cellular shades have a keen resemblance to traditional pleated shades if viewed from the room. However, cellular shades are unlike pleated shades because they are made up of at least two sheets of fabric, with one facing outdoors and the other one facing the room. Because these two fabrics come in a range of colors and opacities, you will have more flexibility over the accent colors of your room as well as your exterior décor.
At the seams of the cellular shade, you can see that layers of fabric are joined together. The purpose of this design feature is to create pockets of air that will help insulate the room whenever the shade is pulled down. They shield your room against heat absorption in the summer and heat loss during winter. Other than that, they also act as a barrier against both inside and outside noise. Book an at-home free estimate by Clicking Here or Call us at 863-210-7987
Variations in Cellular Shades
Cellular shades come in different colors and light filtering options, as well as cell numbers, sizes, and insulating qualities. Both the cell numbers and cell sizes have an effect on the shade's depth and energy-efficient properties. If you want to learn more information about the differences in each cell size and number to help you determine which one best suits your needs, you can read the articles found on this site.
However, cells are not the only ones affecting energy efficiency. Fabric thicknesses and weaves also play a huge role in your cellular shades' insulating properties and your window treatments' overall look and feel. A vast selection of control options is also available, ranging from cordless and remote-controlled to continuous cord loops.
Generally, cellular shades are widely known for being very durable. They also give any room a sleek modern accent.
If you want to get a better feel for the numerous cellular shades currently available on the market so you can finally find out which one works best for you, you can browse the articles on Cellular Shades Help.
While beautiful shades and blinds are great decorations for your home, they can also be a nice investment due to how solid and reliable they can be. Currently, the market has thousands of blinds and shades to choose from, with each of them being different from the others.
Book an at-home free estimate by Clicking Here or Call us at 863-210-7987